Your seven epic achievements so far this year
17 June 2018, 15:38 UTC |
So far this year… 
1. You've freed over 100 people  
In February, you got the result we'd all been waiting years for: Teodora del Carmen Vasquez was finally freed from jail in El Salvador, when a court reduced her outrageous 30-year sentence. She had already been forced to spend a decade behind bars after having a stillbirth and being accused of abortion which is illegal in El Salvador.  
In Sudan, 136 opposition supporters, rights defenders and activists were released.
"I cannot thank you enough for the time, efforts and activities that surely helped not only in restoring our freedom but also in improving the conditions of our detention".   - Amjed Farid El-Tayeb, freed Sudan rights defender 
In March in Turkey, two of the three remaining detained Cumhuriyet newspaper staff, editor-in-chief Murat Sabuncu and investigative journalist Ahmet Şık, were released after 494 and 435 days respectively. Through the Free Turkey Media campaign, you have been pushing for their release, alongside many other journalists and media workers.  
Amnesty Advoctes say #FreeTurkeyMedia at Amnesty Internatonal New Zealand's 2018 Annual Hui
Murat Sabuncu said: "I watched with excitement when Amnesty International raised its voice across the world on our behalf through members of my family and lawyers. I want freedom not just for myself but for all journalists in my country and around the world. And the way to achieve it is solidarity. My greetings to all those who are with us." 
After being arrested and tortured by the Philippines police in 2012, bus driver Jerryme Corre was finally released in March. As part of the 2014 Write for Rights, you demanded his freedom and justice. One police officer was sentenced in March 2018 after pleading guilty to torturing Jerryme.  
2. You've made governments take responsibility for their actions 
The New Zealand Government announced an independent inquiry into last year's disturbing allegations of war crimes committed by our defence force in Afghanistan. This is a huge win that demonstrates when we stand up together we can achieve vital victories for human rights. In 2017, following allegations that New Zealand Defence Forces carried out an attack on an Afghan village that left 21 civilians dead or wounded, you leapt into action. Thousands signed the petition demanding an independent inquiry into possible war crimes. The victims and survivors in Afghanistan have waited eight long years for justice. Finding out exactly what happened during that raid is a crucial first step, which wouldn't have happened without you. 
Congratulations to Amnesty Ireland, who are reaping the fruit of their long campaign on access to abortion services in Ireland. The amazing result of the Irish referendum which overturned the constitutional ban on abortions sends a powerful message to women and girls that their human rights matter. It was an outcome born from years of dedicated work by Amnesty supporters.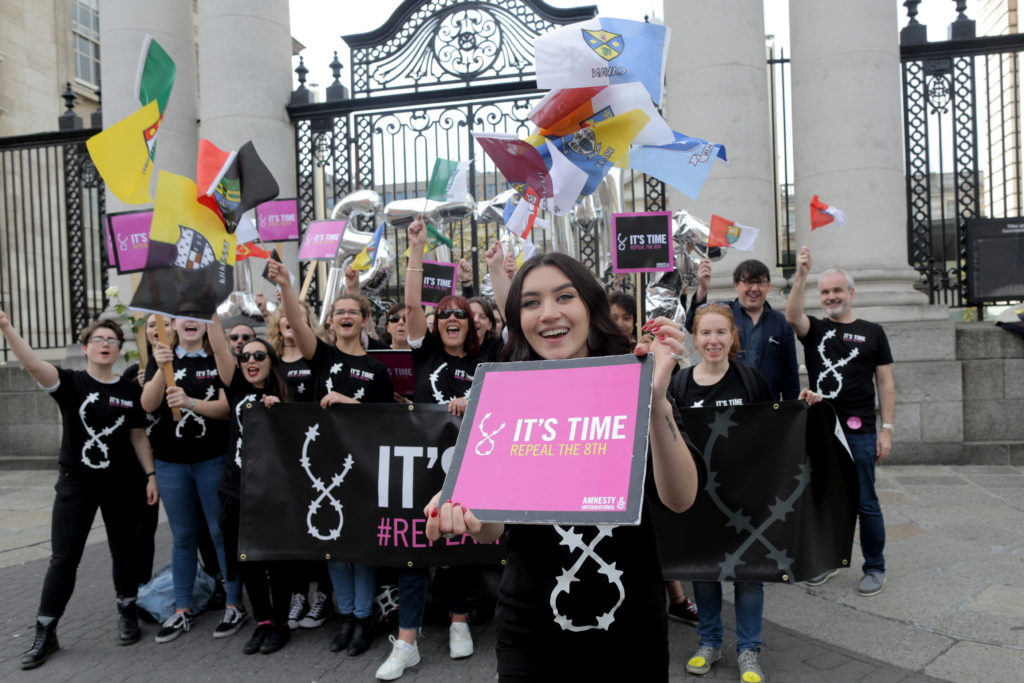 On 8 February, the International Criminal Court announced it would open a preliminary examination into President Duterte's so-called "war on drugs" in the Philippines. In 2017, thousands of you wrote letters and signed petitions demanded justice and accountability for over 9000 state-sponsored killings in his anti-drug campaign. 
3. ...and corporates too 
You exposed evidence of serious negligence by oil giants Shell and Eni.  
More than 3,500 Amnesty International supporters and activists took part in 'Decode Oil Spills', a ground-breaking online project for crowdsourcing research. The Decoders helped analyse thousands of documents and photographs relating to oil spills in the Niger Delta. You proved that Shell and Eni's irresponsible approach to the oil spills is exacerbating an environmental crisis and is not in line with Nigerian law.  
4. You've taken more steps towards ending the death penalty 
Gambia, Guinea and Burkina Faso have all ended the death penalty so far this year, a massive win to ending this ultimate cruel, inhuman and degrading punishment.  
We also received news that Saman Naseem, who you campaigned on behalf as part of Write for Rights 2015, is no longer at risk of execution and may be released soon.  
After years of campaigning, Iran has amended their Anti-Narcotics Law to remove capital punishment for some drug-related offences. Meaning 15,000 individuals death sentences could be commutated.  
5. You've stood up for those who need justice  
For the last three years, Pride marches have been banned in Istanbul and Ankara. This year, LGBTI students in Turkey were able to hold their Pride march after Amnesty International supporters called on authorities to allow them to march safely. In their message to our advocates and supporters, the students said:
"The reason we could resist the ban and move forward was the international support and solidarity by Amnesty International activists around the world. We could not have gone further without your support".  
6. You've added your voice where it was needed most 
After the #ToxicTwitter report exposed Twitter's failure to prevent online violence and abuse against women, thousands of you joined our Troll Patrol. In a few short weeks you analysed 500,000 tweets sent to women politicians and journalists in 2017, and exposed the scale and nature of abuse against women on Twitter.  
And Write for Rights 2017 hit an amazing 5,500,650 actions, up by nearly a million from the previous year! You made this a massive success and were part of something truly amazing. 
7. And you've joined us in rewarding those who stand up for others 
In April, for the first time ever, we presented our Ambassador of Conscience Award to an athlete: American Football player Colin Kaepernick. He felt like the perfect person after he became widely recognised across the world for his "take-a-knee" protest in the US, which sparked a fierce debate about racial discrimination, police use of lethal force, the right to protest, and free speech.  
---
So a huge thank you from everyone around the world whose life you've helped to change with your amazing support. 
Here's a special message of gratitude for you from Ibrahim Halawa, who was released from prison in Egypt last year. 
"I was in a cell in Egypt and a lot of you helped me and you didn't even know me. And I needed the support so much and that is what kept me going. And there's a lot of people out there who still need that support so please continue your hard work." 
Thank you for everything you do.